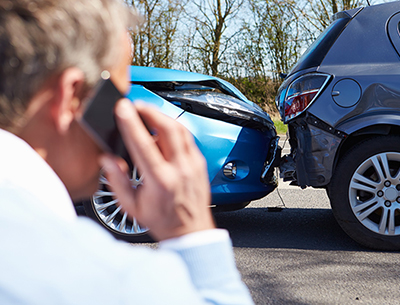 Car accidents can be very stressful and overwhelming at the time they happen. It's important to always remember to stay relaxed and use the following tips to help guide you through important decisions.
1. Check Yourself for Injuries
If you're injured, call 911 or ask someone else to. If you're seriously injured, try not to move, and wait for emergency personnel.
If you're not too hurt to move, check on the well-being of your passengers.
Get to safety if you're able to, either on the side of the road or on a sidewalk (If your car is safe to drive and is causing a hazard where it is, pull it to the side of the road, otherwise leave it and get to safety).
Turn off your engine, turn on your hazard lights, and use road flares to warn other vehicles to slow down.
2. Notify Authorities
Call the police and notify your insurance agent. They will be able to tell you exactly what they need to process your claim.
3. Document the Accident
Get the name and badge numbers of all responding officers.
Ask the police officers present where you can obtain a copy of their accident report.
Take pictures! Document the accident thoroughly by taking snapshots from different angles, showing the damage done to both cars.
Write down names and addresses of all parties involved, including passengers.
Talk to witnesses and get their contact information.
4. Exchange the Following Information
Full name and contact info
Insurance company and policy number
Driver's license and license plate number
Type, color, and model of vehicle
Location of accident
The following steps may help protect you against unnecessary stress and will give your insurance company detailed information to help process your claim quickly.