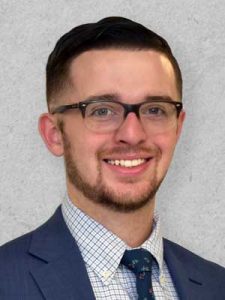 Pittston, PA – November 21, 2019 – Joyce Insurance Group is pleased to announce its recent hire of Jack Joyce, who will join the Commercial Insurance team as a Business Insurance Consultant working in the Pittston and Allentown, Pennsylvania offices.
Within this role, Joyce will develop insurance programs and coverage recommendations for commercial prospects, leveraging the agency's strong relationship with carriers, to ensure the best coverage and pricing options for clients.
"I am excited to introduce the Joyce Insurance Group to businesses in the Allentown area. As a third-generation member of the family business, it is a great honor to be leading the commercial insurance expansion into the Lehigh Valley," said Jack Joyce. "Over the past 60 years, Joyce Insurance Group has built strong relationships with a diverse mix of national insurance companies, which will allow me to develop customized programs specific to client's needs."
John Joyce, President of Joyce Insurance Group said, "We're pleased to have Jack leading our expansion in the Lehigh Valley. Our commitment to providing exceptional service and creating a protective barrier around clients is paramount to our success. As a third-generation member of our family business, I am confident that Jack will continue to demonstrate the values and business integrity that my father instilled in our culture."
Jack Joyce brings with him over 6 years of experience in the insurance industry. In his role before joining Joyce Insurance Group, Joyce worked as a Production Associate at All Risks Ltd., an Excess and Surplus Lines wholesale brokerage firm, in Conshohocken, PA. During his time there, Joyce specialized in insuring New York construction risks. Joyce holds a B.A. in Risk Management and Insurance from St. Joseph's University in Philadelphia, which was ranked #1 in U.S. News & World Report's 2017 edition of Best Colleges. He holds a Property and Casualty Insurance License in the state of Pennsylvania.
Joyce Insurance Group is a full-service independent insurance agency headquartered in Pittston, PA. The agency offers in Home, Auto, Business, Life and Health Insurance products, and services. The Joyce family has been serving the insurance needs of thousands of Pennsylvania's since 1955.
###